Each year, the Northern California Power Agency hosts the largest public power policy conference in California—bringing together a diverse group of industry leaders, stakeholders, and policymakers from the energy sector. Approximately 300 attendees participate in the conference each year to connect with colleagues and discuss the current and future challenges facing publicly-owned electric utilities as they work to fulfill their core mission of providing reliable and affordable service to their communities.
Past speakers include: Members of the State Legislature, Members of Congress, FERC Commissioners, Federal Power Administrators, and other esteemed government and industry officials.
Important Update: 2020 NCPA Annual Conference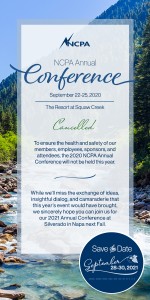 To ensure the health and safety of our members, employees, sponsors, and attendees, the 2020 NCPA Annual Conference will not be held this year. While we'll miss the exchange of ideas, insightful dialog, and camaraderie that this year's event would have brought, we sincerely hope you can join us for our 2021 Annual Conference at The Silverado Resort in Napa next Fall.